---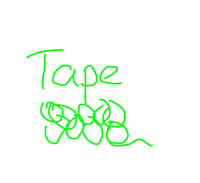 Please use the right tape for the job on your tubeless rims. You want a THIN tape that is FLEXIBLE to conform to the rim profile and not create a build up, which makes mounting tires easier, and that does not split when pulled tight. It needs to be waterproof to stop sealant migration. Also, you don't need this stuff to be aggressively sticky, its not tubular tire tape here, sorry Belgians. Looking at you, Gorilla tape users.
Also, word of advice for a long and happy life - when you change tires, just proactively change your tape. If you don't and you have to do it after you mount that new tire and realize you have an issue, you are in for a fight getting the new (unstretched) tire off, and you will be covered in sealant. 
Buy any tape you want, or you can buy a 60 yard roll from me if you want, which should last a normal person a long time. Comes in two widths, 5/8 inch and 7/8 inch. For MTB or gravel wheels, use the 7/8 inch in a single wrap. For road rims and high pressure use, use the narrower 5/8 inch and a double wrap.